Photo above by: ajbrownimaging.com
If the front of the home is its face, the top of the home can be thought of as the brains, thanks to roofing designed for greater resiliency and sustainability.
Beyond merely topping a structure, roofs can be used in a smart way, to generate power and provide natural daylighting and ventilation with an integrated skylight, among other functions.
Resilience is one advantage of today's metal roofs. The life span of a properly installed metal roof can be up to 50 years, and metal roofs typically last three times longer than other roofing materials. A large piece of hail will damage anything it hits, but a metal roof will survive the impact much better than traditional roofing materials, contrary to some misperceptions about metal roofs. Furthermore, metal roofs are resistant to fire, which is a benefit in areas of the country susceptible to wildfires.
In addition to durability, topping a home with a metal roof contributes to its overall sustainability. For example, energy-efficient metal roofs have qualities that can reduce the effect of heat gain from the sun inside a home and subsequently lower energy usage, thanks to the solar reflectance qualities from the Kynar paint finish on many metal roof products. In metal roofs with standing seams, the seam makes a good anchor for attaching photovoltaic solar panels, as long as the clip that attaches the solar panel to the roof panel doesn't penetrate the metal. Using a metal roof to collect water is another good choice, considering oil and granules from asphalt roof shingles can leach into collected waterh. Another facet of greater sustainability is the recyclability of metal roofs, including those from Petersen Aluminum Corporation (PAC) at the end of their use, which keeps material out of landfills.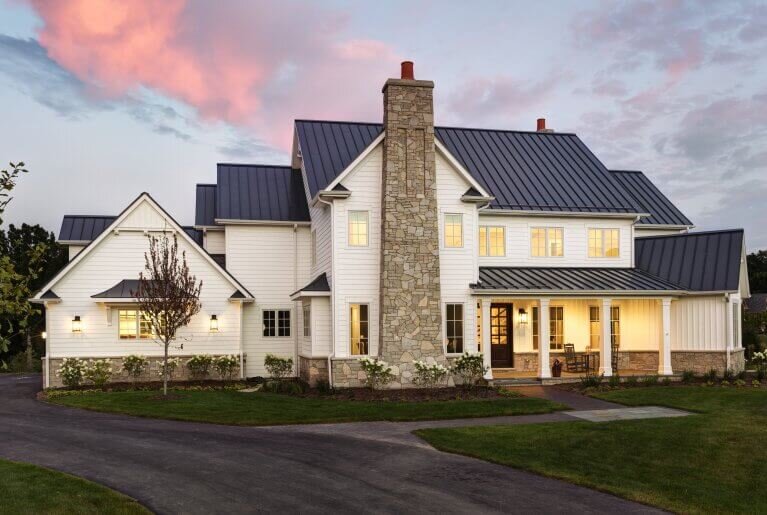 Photo by: scottbellphotography.com
Metal roofs like Petersen's PAC-CLAD steel and aluminum products enhance the appearance of a home, too. Standing seam metal roofs look good with almost any architectural style if properly specified by a knowledgeable architect or designer. Today's standing seam metal roofs are available in more colors than other types of roofing. PAC-CLAD roofs, for example, include standing seam metal roofs in 45 colors, and have the ability to match any custom color.
Metal roofs also bring peace of mind for homeowners, who probably won't need to think about buying another roof on their home as long as they're living there. Petersen offers a 30-year warranty against fading, chalking and chipping on the paint applied to its metal roof panels.
For more information about PAC-CLAD steel and aluminum roof and siding products, visit pac-clad.com, email info@pac-clad.com or call 800-PAC-CLAD.
PAC-CLAD is a member of the NextHaus Alliance
Back to News & Articles